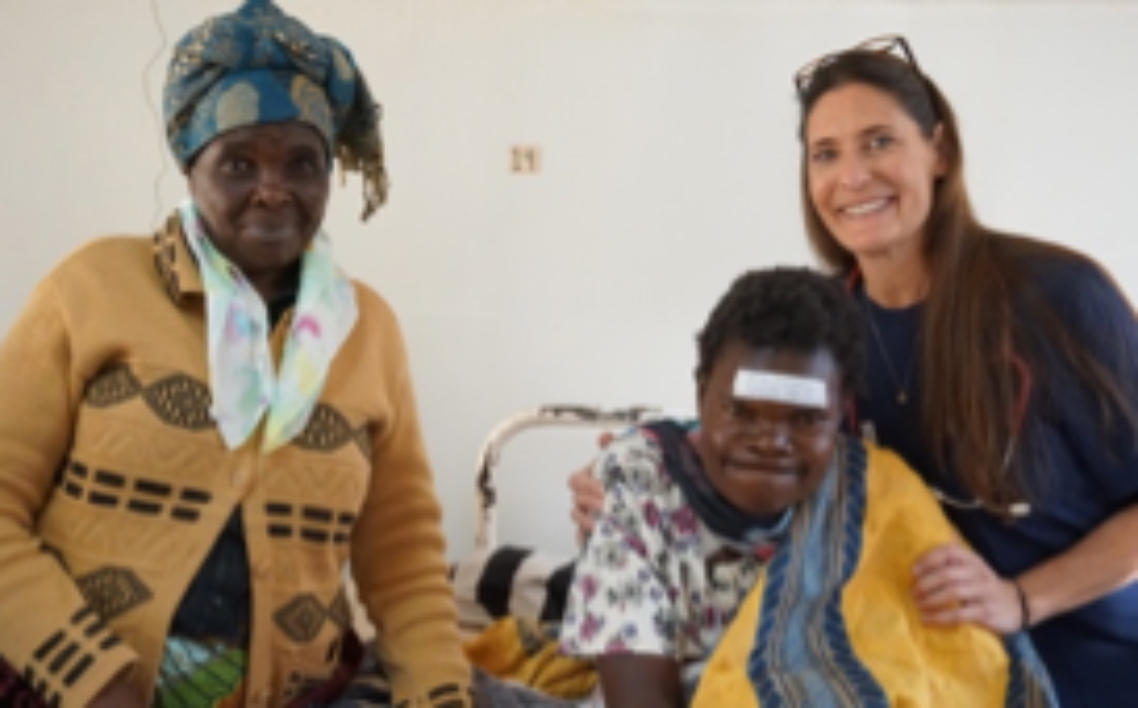 By Rachael Maurer - November 9, 2017
Jeanine Maurer is the Director of Aspen Surgery Center and the Manager of their Joint Venture. She has been in nursing for over 30 years and with Adventist Health for 18 years. She has worked in many areas including emergency room, cardiac services, critical care transport and surgical services. Jeanine says that she feels most like a nurse when she is working as a missionary. 
While in nursing school, Jeanine became interested in serving globally. She loved Florence Nightingale's philosophy of a global coalition and wondered if she would see her vision of shared nursing knowledge by the year 2020 come to pass. Since that time, being part of this dream was always in the back of her mind. Five years ago, Jeanine was finally able to serve as a nurse in her first medical mission to Jamaica.
Jeanine greatly enjoys being able to travel and teach nursing globally. "We learn from each other. It is a small step, one nurse at a time and one village at a time, but I do believe I we are making a difference".
During her most recent missionary trip to Mwami Hospital in Zambia Africa, Jeanine had the opportunity to care for a woman named Jessy. Jessy suffered from a condition known as retrosternal goiter formation, an extreme enlargement of the thyroid. In the US, goiters are usually formed due to a hormone imbalance causing a malfunctioning of the thyroid gland. In Zambia, this condition is caused by a diet deficient in iodine.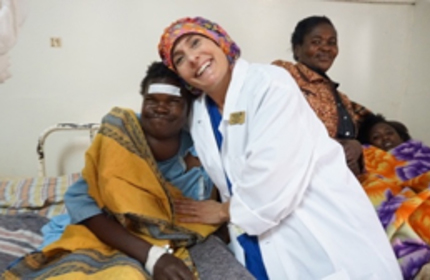 Jeanine & Jessy two days before surgery
Left untreated goiters can grow so large they can affect basic functions. Jessy had an extreme case. Her ability to eat, swallow, speak, and even breathe were all negatively affected. She had not been able to chew or form more than a few words for several years. Jeanine said, "When I met Jessy, her facial tissue was permanently frozen in an upward expression."
Jessy has lived in Kajonde Village her entire life; as did her mother Joyce, grandmother, and all prior generations. Jessy is one of nine children, eight of whom survived into adulthood. She is widowed, never remarried, and does not have children. She had suffered from the enlarged goiter for 13 years and this hampered her ability to be accepted by another husband.
The night before surgery, Jeanine visited Jessy and asked if she had any questions. "Jessy was clearly trying to tell me something and her frustration was evident," Jeanine said. At that time her mother Joyce took over, explaining that Jessy wanted to know if she would look like a girl again after surgery.
  A quick prayer before surgery.
One needs to remember that in this culture women are oppressed, rarely receive education, and are dependent upon the males in their village. The inability to secure a mate is not just a psychological issue, it can mean the difference of survival. Thankfully Jessy's family had taken responsibility for her, but as her mother explained, she longed for a family of her own. Jeanine explained how she so badly wanted to tell her she already looked like a girl, but understood the significance of what this meant to Jessy and simply replied "yes, absolutely". Upon hearing this, Jessy visibly relaxed as she turned to hug her mother.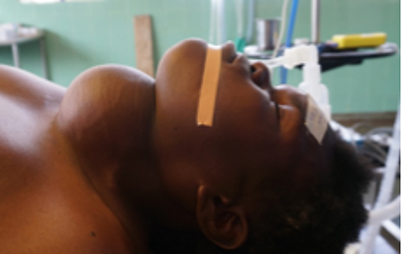 Before and after.
Jeanine hopes to return to Mwami Hospital and establish a partnership with the surgical team that promotes sustainability and shared knowledge.
In a blog explaining her decision to take on a trip to Africa, Jeanine wrote: "We do not know how much time we have on this Earth, but we know it is limited. I am just trying to make the most of it and I feel so privileged to be able to share these experiences with my daughter. So, to those who tell me I am crazy I ask, why not missionary work?"
Jeanine said she feels blessed to be part of a mission that had the privilege of serving such unique and gentle people. She described their gratitude as immeasurable and said that the mission team felt a sense of joy and purpose. Jessy will remain in her heart and has inspired Jeanine to continue serving.
In Zambia saying goodbye to Jessy & Joyce.