By Edward Martin - December 1, 2015
The following update was written by Edward Martin, Administrator of Hopital Adventiste d'Haiti (HAH) and shared via the blog, Haitibones
Brief Summary
The situation under which I was coming to the hospital was less than ideal. In the last quarter of 2013, the hospital ended up losing a very important revenue stream which sent it on a downward spiral. That service accounted for over 60% of its operating budget and since the other hospital services weren't generating enough revenue to cover the difference, the hospital was unable to meet its financial obligations faithfully. The impacts were felt almost immediately and life for the staff became extremely difficult.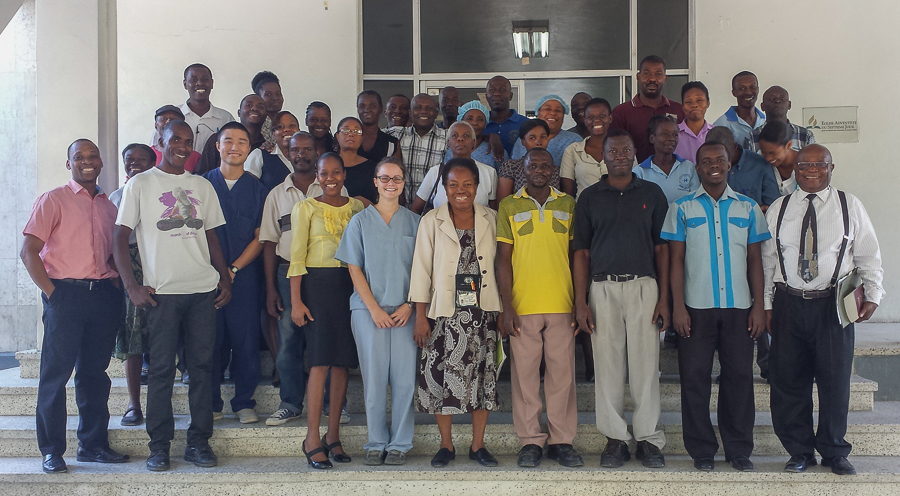 Hospital Adventiste staff
I formally took up my position as Hospital Administrator on September 2, 2014. On the third day of my post, I began meeting with my staff to begin planning the way forward. As an administrator that has worked in sub-Saharan Africa for over 9 years, I have been involved in many hospitals, clinics and rural healthcare center, and while the challenges I have experienced in those countries were similar, rarely have I come across an institution that can accurately be termed "a diamond in the rough."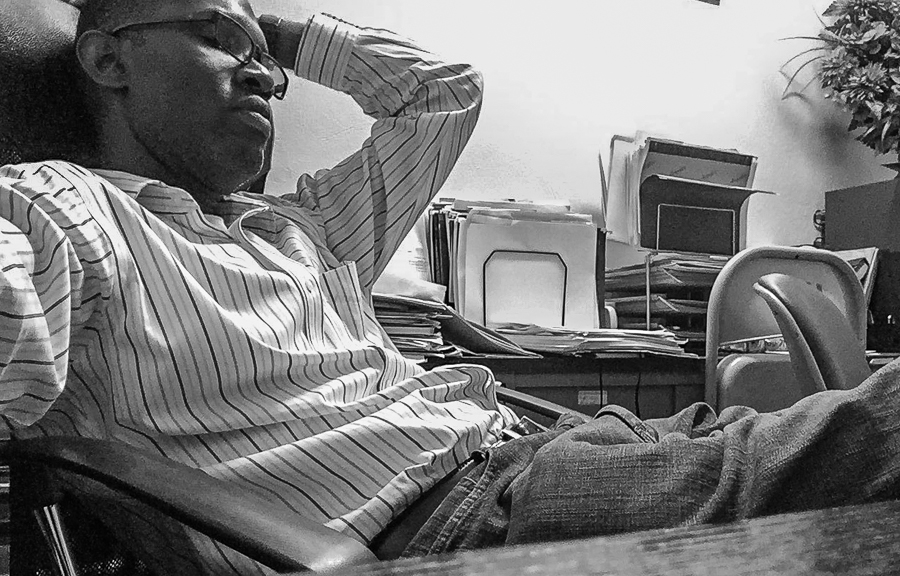 Late at night, Edward tired but still at work
Finances
As was mentioned, the hospital has had challenges financially. It has not only impacted the ability to compensate the employees in a timely manner, but also to meet its obligations to various suppliers, government entities and service providers.
Solutions
We have conducted a right-sizing exercise that helped to more accurately reflect the proper staffing levels needed.
Upgraded accounting software and trained staff on the new accounting procedures.
Collapsed and centralized similar services which called for less staff but greater oversight over assets and personnel.
Established Central Stores for better accounting of medication along with medical and departmental supplies.
Restructured the business department so that employee's strength is aligned with the designated position.   We haven't fully finished with the restructuring within this department, but we are close.
With the coming of Mr. Jean Robert Julien (Bob), we have been able to gain much more momentum in the restructuring of the business office.
Infrastructure
Over the past 34 years of the hospital's existence, signs of aging can be seen throughout the hallways and in every area where services are rendered. Many of our departments present a less than ideal space for care to be provided and general maintenance is needed on most of the hospital's utilities, whether it be rusted pipes which are springing leaks or exposed electrical wires. However, with the coming of Dan Brown, our Facilities Manager, many of the growing structural concerns are being addressed.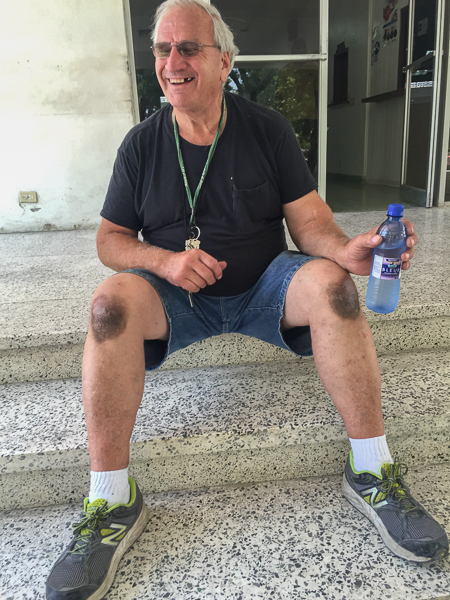 Hard working Facilities Manager Dan Brown taking a well deserved water break
Solutions
Renovations of the brand new Operating Rooms are near completion. This project has been the brain child of various individuals and organizations such as Dr. Scott Nelson, Loma Linda University Health and Florida Hospital.
The Laboratory Department is also undergoing renovations and is also near completion. Our hope is to become a reference lab for the country. Our highly motivated laboratory staff have been undergoing intense training in preparation for the transition into their new area.
Minor renovations are being done currently on the plumbing and electrical cables until a later time when a complete overhaul of the system can be done.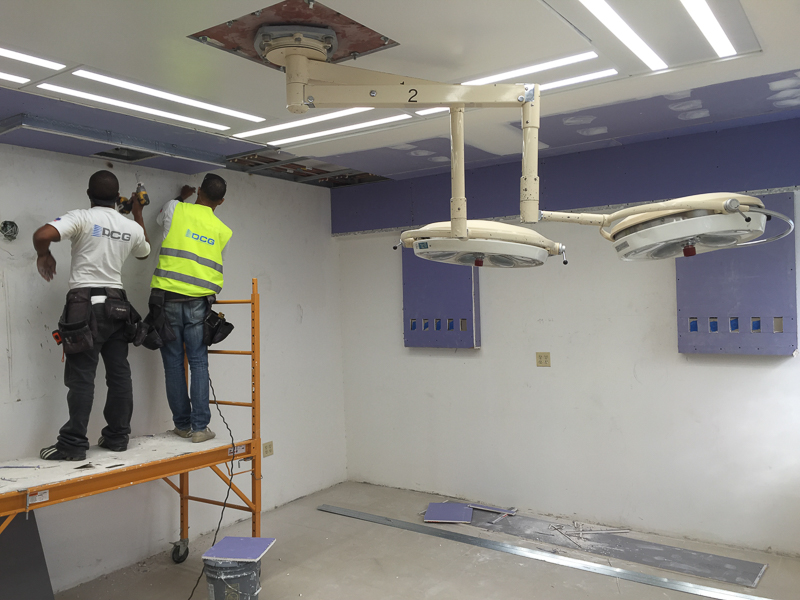 Putting finishing touches on the operating room
Personal Challenges
Language Barrier
I am not proficient in French, however I have a very basic understanding of Creole and am able to communicate at a very standard level. However, when I first arrived at the hospital, I heavily relied on my top administrators and secretary to help translate for me. As you can imagine, it has been very difficult trying to get my ideas across, especially when trying to guide an institution that is gravely under resourced and lead it toward becoming sustainable.
Social Aspect
As a single man, it has been relatively easy for me to relocate to different counties whenever opportunity came knocking. My travels have brought me into contract with many inspiring personalities and fascinating places. I wouldn't trade my experiences for anything. At the same time, I must admit, there are moments when the excitement of experiencing the world as a single person loses its luster and unfortunately for me this is one of those times. All I can say is that Haiti, with its rich culture and polarizing moments was never meant to be experienced alone.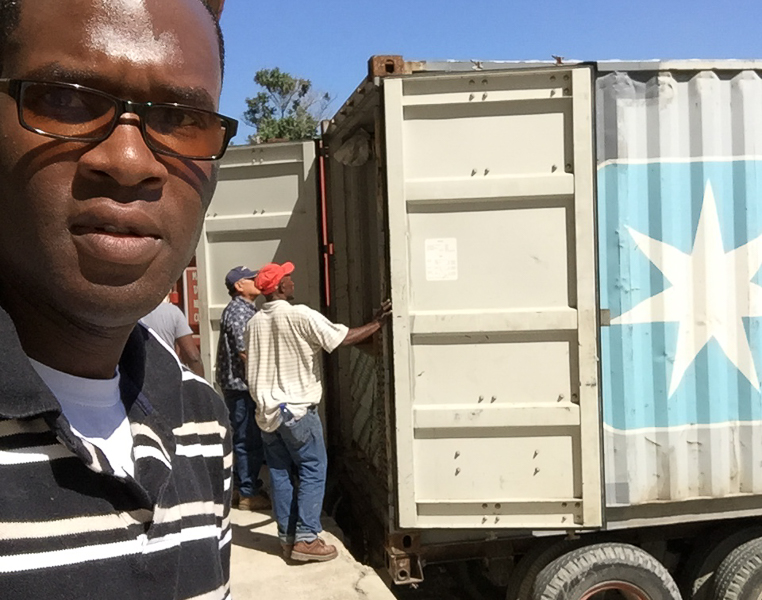 After weeks of negotiations it was a happy day for Edward and staff when the crates of donated supplies finally "cleared" Customs and arrived at HAH
Strategic Direction
New Personnel
While the hospital is beginning to transition out of an extremely difficult period, I am very optimistic about its future and the objectives we have set out to accomplish. In order for the institution to be successful, it will continue to require a collaborative effort between the Board, hospital administrators, staff and other supporting partners. Furthermore, as part of the hospital's overall strategy to expand its services while generating much needed revenue, we will be joined by new team members.  One being, Dr. Alex Coutsoumpos, who will be taking up leadership as the Chief of the Perioperative Department while assisting our Medical Director in the coordination of medical activities.   Dr. Coutsoumpos is a US board certified general surgeon who, with his family, joined our team this summer. In October, we will have Drs. Kim joining us. Joseph Kim is a US board certified Emergency Medicine doctor and his wife Melissa is a US Board Certified Pediatrician. Joseph will be heading our Emergency Department and Melissa our Pediatric Department. To help re-enforce our accounting department and laboratory, we will soon welcome Gay and Rommel Malapit. Gay Malapit is a licensed Certified Public Accountant out of the Philippines who will be assisting in building up our Accounting Department. Rommel, with his background in Biomedical Sciences, will be essential in the continuity of training in the laboratory while leading our laboratory towards a Reference Lab status. Our new employees have committed themselves to working for the institution for anywhere from 2 to 5 years.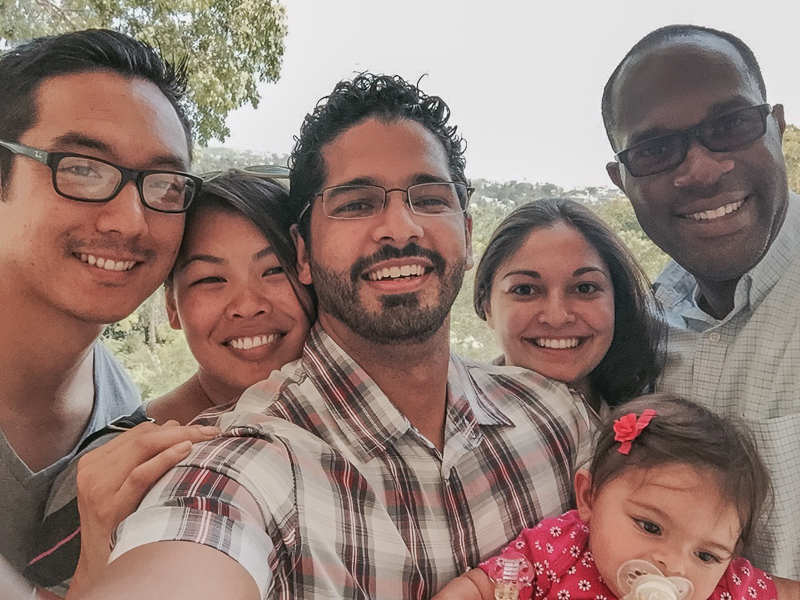 The Kim and Coutsoumpos families with Edward
Short to Medium Term Vision
The short to medium term vision is one that is shared between many individuals and organizations who have committed themselves to the development of the hospital's infrastructure and services. Some of these individuals include, but aren't limited to. Dr. Richard Hart, Jerry Daly, Dr. Elie Honore, Pastor St. Pierre Theart, Dr. Scott Nelson, Dr. Terry Dietrich, Dr. James Matiko, Monty Jacobs, Dan Brown, Loma Linda University Health-Global Health Institute, Florida Hospital, Adventist Health International and the HAH Administration and Staff. Here are some of our short, medium and long term goals:
Phase I (1-2 years)
Operating Room Renovations (near completion)
Laboratory Renovations (near completion)
Emergency Room Renovation ( pending)
Hospital Main Floor Renovation (pending)
Orthopedic Clinic Relocation and Renovation (pending)
Dental Clinic Installation (pending)
Embassy Clinic Installation (pending)
Electronic Medical Record (in process)
Telemedicine-Wound Care Program (in process)
Haiti Air Ambulance Helipad (in process)
Phase II (3-5 years)
Community Wing ( pending)
Additional Land Procurement (pending)
Phase III (6+years)
Establish health institutions in major cities throughout Haiti.
Finally, it's important to understand that while we have supporters, the hospital fully runs its operations off of the revenue generated from its patients. This is the preferred model for us because it enables us to realistically plan for the future. If you would like to receive more information about the hospital, interested in potential visits or initiatives to subsidize poor patients, please feel free to contact myself (edwardhmartinii@gmail.com) or our Volunteer Coordinator, Mackinson Christophe (ahihaiti.volunteers@gmail.com).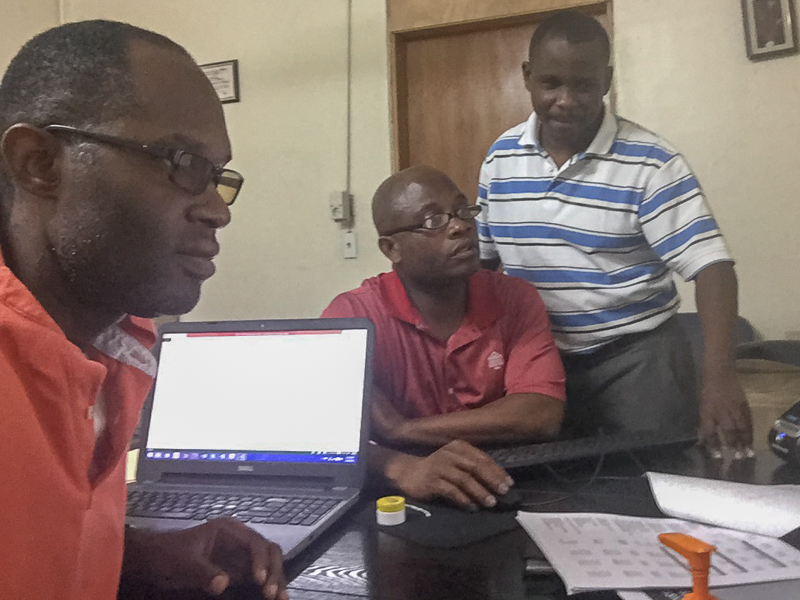 Edward (far left) in planning session with Treasurer Robert Julien (center) and Medical Director Franck Geneus (far right).