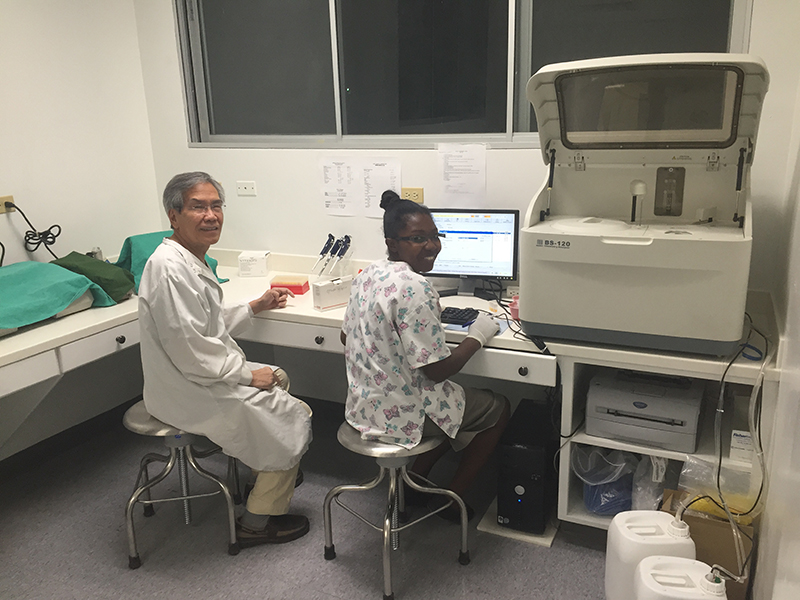 By Haiti Adventist Hospital - December 11, 2015
Adventist Health International (AHI) Clinical Lab Consultant, Ben Siapco is staying busy as he traverses the globe helping to renovate and train health care professionals in the clinical laboratory setting.
His most recent endeavor taking him to Hopital Adventiste d'Haiti (HAH). The hospital itself has been undergoing major reconstruction in regards to the hospital facility as well as the staffing.
Throughout the years the hospital has struggled to recovered from the devastation that was left after the horror of a 7.0 magnitude earthquake shattered the nation's infrastructure and economy in 2010, leaving more than 300,000 dead. Today the hospital is heading in the right direction as dedicated staff and volunteers like Siapco put their hearts into making this hospital perform at its best.
Here are few photos showcasing Siapco in his element. Spending long nights providing one-on-one training with the night shift employees. Working in the newly renovated lab, you can truly see the passion that Siapco has for what he considers his life calling, mission work.
According to Aniqueka Scott, an ESL teacher who recently moved to Haiti to volunteer at HAH, shared, "We are all grateful for Ben's dedication to HAH and I'm sure that our staff are much more knowledgeable and competent because of his presence."
Ben will be leaving HAH on December 15, moving on to assist at other AHI affiliated hospitals.