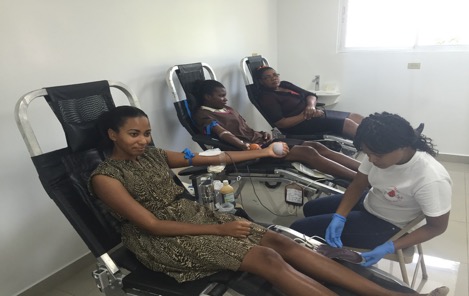 By Haiti Adventist Hospital - September 1, 2016
The Haiti Adventist Hospital collaborated with the Haiti Red Cross to execute a blood collection drive on August 3 & 4, 2016. Dr. Joseph Kim, Head of our Emergency Department, spearheaded the blood drive. With the slogan, "Gift of Blood…Gift of Life," persons were informed and invited to participate in this event.
On August 3rd, the Red Cross sent a representative to conduct a sensitization seminar about donating blood. Around 40 persons attended the seminar where many questions were asked and answered. The following day, August 4th, the Red Cross' team returned for the actual blood collection, from 10am to 3pm. This was held in the area of our new emergency department. There was a consistent flow of donors throughout the day. Some persons were unable to donate blood after the Red Cross' screening process. However, at the end of the day, 14 persons had given blood. For several of these donors, it was their first time donating blood and there was a sense of excitement and satisfaction knowing that they were contributing to saving lives in Haiti. We thank everyone who played a role in making this blood drive successful and we look forward to an even greater response in future initiatives.
Some of the blood donors are shown in the photos below: