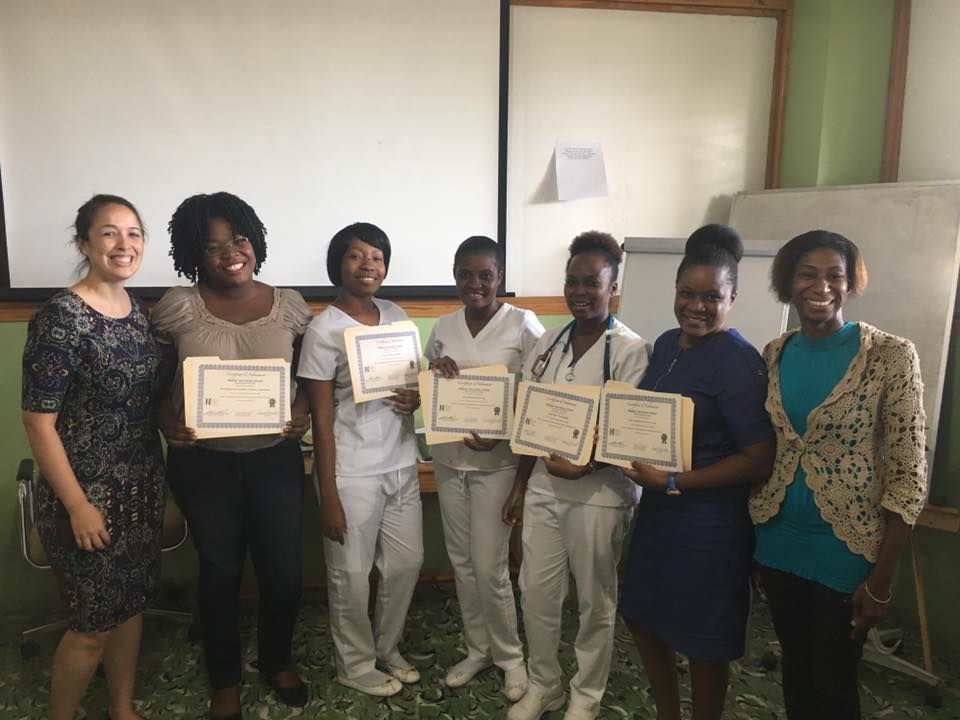 By DonaJayne Potts - November 15, 2017
Image: Volunteer nurse supervisor Trisha Groschel, BSN, RN, left, among Haiti Adventist Hospital's newly certified nursing staff. 
American volunteer nurse supervisor working through Adventist Health International advances professional development of nursing staff
The nursing staff at Haiti Adventist Hospital (HAH) in Port-au-Prince, Haiti, are celebrating training, certification and achievement milestones thanks to a dedicated missionary nurse supervisor.
Once a cardiac intensive care nurse for Loma Linda University Children's Hospital, Trisha Groschel, BSN, RN, a graduate of Pacific Union College, is now a volunteer missionary nurse supervisor and educator at HAH.
Since her arrival to the hospital in May of 2016, she has provided clinical management for six nursing care units. In addition, she has contributed to the education and development of nursing staff, through the creation of training programs, certification opportunities and achievement recognition systems.
 Over the past six months, Groschel and her team of nurses celebrated the following achievements: 
All 40 nurses became certified through the American Heart Association in Basic Life Support (BLS) and 17 nurses went on to complete certification in Advanced Cardiac Life Support (ACLS).
Every nurse obtained Neonatal Resuscitation Program (NRP) certification and 20 attended an advanced neonatal Acute Care of at-Risk Newborn Program (ACoRN). 
Nine pediatric nurses and eight NICU nurses graduated from a three-month intensive training program designed for their specialties.
11 nurses received training in: IV Infusion Therapy & Administration, Emergency Care Nursing and South African Emergency Department triage.
Eight Operating Room (OR) nurses attended a perioperative nursing course.
The creation of the "Nurse of the Month Award" which recognize nurses who provide patients with excellent care and who exemplify the institution's motto "Compassion in Action."
The creation of a monthly "Nurse Forum" where nursing staff gather to share, learn and discuss patient care issues.
It is Groschel's passion to educate and empower the nurses at Haiti Adventist Hospital. Her goal is to equip nursing staff and leadership with the necessary knowledge and skills to continue the work that has been started. "God has led me to change the lives of our staff and our patients. I know He will continue to bless our hospital," she said. Groschel will return to the United States in October of 2017.
Hopital Adventiste d'Haiti is a member of Adventist Health International (AHI), a multinational, non-profit corporation with its headquarters located at Loma Linda University in Loma Linda, California. AHI has been established to provide coordination, consultation, management and technical assistance to hospitals and health care services operated by the Seventh-day Adventist church, particularly in developing countries.