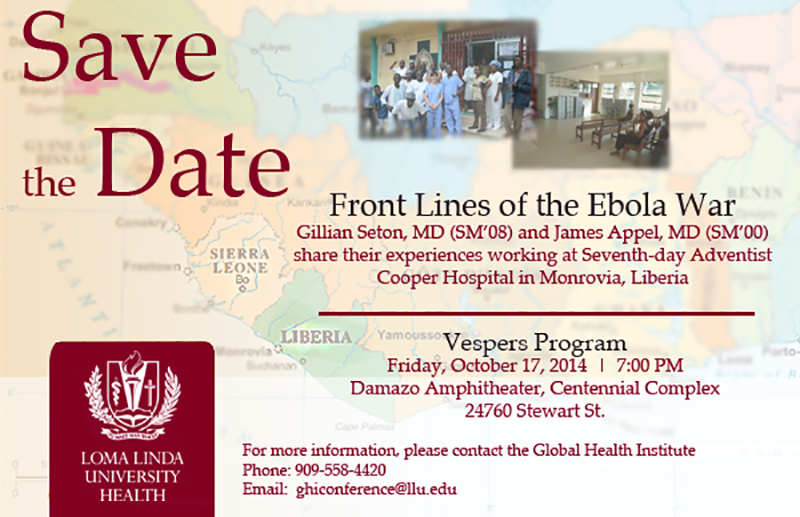 By Courtney Beckwith - October 22, 2014
In Monrovia, Liberia, the cost of food is expensive, the cost of living and housing is high, and over half of the population has lost their jobs due to the Ebola outbreak.
This is the image the is painted as more than 640 people showed up in person with an additional 300 via Live Stream to view the special vespers program held in Centennial Complex on Oct. 17.
This program featured Loma Linda University School of Medicine (LLUSM) alumni, Drs. Gillian Seton ('08) and James Appel ('00) as they presented their personal experiences from working at Seventh-day Adventist Cooper Hospital during the world's largest Ebola outbreak.
Seton, who has been serving as a Deferred Mission Appointee (DMA), at Cooper Hospital since February, began the event by telling what it is like living in Liberia. She shared stories of the culture, the people, and the disease that has swarmed over their country and also discussed what it is going to take to stop this spread.
Seton worked at the hospital for months without additional support from expatriates, when James Appel was called to travel there from his home in Tchad to help. 
"It's funny, when you reach a breaking point, God usually gives you a break," Seton said. "One of those times was when James came, because the week after he arrived we got hit with the most difficult cases, one after the other and it took both of us to handle it."
Seton went on to say, "I made a joke with the nurses, that God only gives you as much as you can handle because as soon as James came, all the trouble followed, and then he could handle it."
 "I lived under constant fear of Ebola," Appel admitted. He said that in all his years working in Africa, this is the only thing that has ever frightened him.
These two physicians faced exposure to Ebola on a daily basis and still both continued to serve. No one forced them to or even encouraged them to, but Seton and Appel both affirmed without a doubt that this is where they belonged.
Despite dealing with fear, protection shortages and constant struggles, Seton plans to return to Liberia in November to continue treating non-Ebola related patients.
Appel ended his presentation by reading John 15, 12-13 and then stated, "Let's fight Ebola. Let's not love our lives until death. Let's be willing to sacrifice our lives if necessary for the common good of humanity. Let's help save our West African brothers and sisters by showing the greatest love there is and in the end, maybe we'll save ourselves."