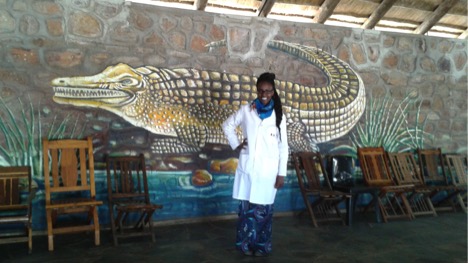 By Botswana - July 31, 2015
[Pictured here July 31st 2015 at Kgotla Bangwaketse (village meeting place or customary court). The hospital's health outreach team conducted a health screening event for the village elders and Kgotla staff].
Ndinda Rebekah Ngewa
(GSA 2015-2016 in Kanye, Botswana at Kanye Adventist Hospital-KAH)
Dumelang!
My year of medical missionary work as a Global Service Awardee brought me back to Africa. As I come back full circle to the continent, faces are being matched to the reality of public health and community medicine in the developing world. I am just a breech baby from Africa! Born in a missionary hospital in Kijabe, Kenya and called to serve in a missionary hospital in the beautiful Southern African country of Botswana.
45 minutes away from the capital city of Gaborone, is Kanye Adventist Hospital (KAH), which will be my home for the next year. The mission of the hospital is to promote and provide complete health services through preventive, curative, rehabilitative, and spiritual care.
It seems like just yesterday, I was among the graduates sitting at Campus Hill Church in Loma Linda, CA for the Diversity Consecration Service where we were all consecrated for a life of service. Growing up as a missionary child in East Africa, I always knew my life's work would involve mission work in the health field. I was raised for a few years in what I like to call "United Nations" in Karen, Kenya at formerly NEGST now Africa International University (AIU), "A school in the heart of Africa with Africa on its heart." I am truly blessed to be living my dream, thousands of miles away from home as I follow God's leading in my life.
After two decades of being away from the continent, it has truly been refreshing to have the opportunity for hands-on application to my years of training in preventive health care and lifestyle medicine. I am seeing the reality of health and diseases patterns in the developing world; the epidemiologic transition from infectious diseases to chronic diseases. KAH has many departments/ wards, with each ward having a different picture on the patient files, but always with important three words, "But to Minister."
Here I am seeing first-hand some of the challenges facing health institutions in the developing world. It is a reality of nonfunctional equipment, limited supplies, out of stock medications, insufficient number of ambulances, BUT staff who are here to serve and daily being the hands and feet of Jesus. Even as I look around and see a different reality from that of Loma Linda Medical Center or Loma Linda Jerry L. Pettis Veterans Hospital, KAH is far better off than many hospitals in Africa where there is lack of skilled personnel, no medicine, no equipment, and no infrastructure. I am truly seeing the blessings that lie in the midst of little, but which is plenty compared to other developing nations.
Equipped with my Duo Chart TSN Medical Setswana App to learn Setswana medical phrases, I am observing and learning. Armed with my passion for maternal and child health and preventive medicine, I am here to serve, and looking forward to both the triumphs and challenges I will encounter.
Sala Sentle (Stay Well)