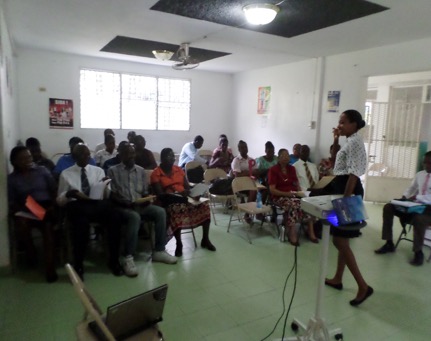 By Haiti Adventist Hospital - December 10, 2015
English as a Second Language
The English class at the HAH (Haiti Adventist Hospital) got off to a fantastic start. From the first day, we had an overwhelming attendance, which resulted in the class being split into two. One class is held on Tuesdays and the other, on Thursdays. Students are very excited and have been exceptionally consistent in their attendance. Since at the moment no ESL books are available for students to use, I have had to search for and download teaching material from the internet. I print and make copies for each student. In addition to lessons, I prepare games/activities in the class. Unfortunately, the classes are pretty large. Between the two classes, close to 70 persons attend each week. Hospital staff could only take the classes after working hours and so the options are limited to have several sessions. However, we try to make the best of the circumstances. The pictures below would give some more insight.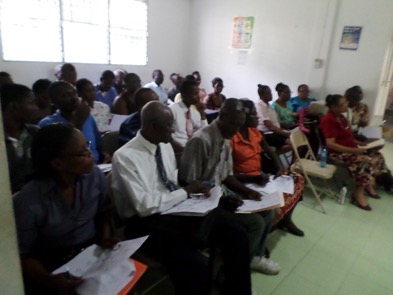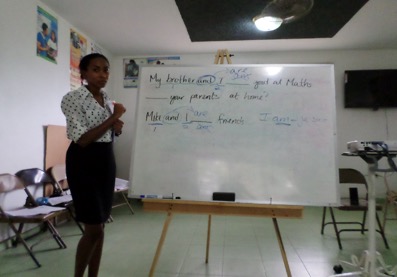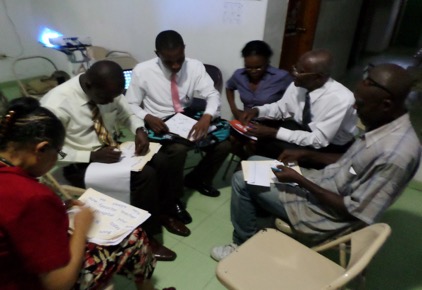 In each class, students are given a Bible verse to memorize. These brave students took up the challenge to recite the memory verse from the previous week. I gave prizes to encourage them and as an incentive to the rest of the class to continue to memorize their Bible verses.
I also ask students to do the English reading in morning worship from time to time. I give them a copy of the reading in advance and they would come to me to practice their reading and to learn the pronunciation of the difficult words. They have a very good disposition to trying. In addition, I have been teaching them songs in English. We participate in morning worship by doing a special song. This photo shows one group singing the song, "Echo His Love."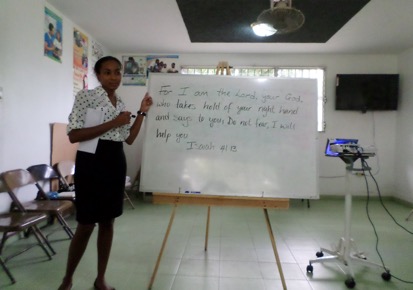 Computer Class
The computer class also had a very good response. A number of people signed up to take this class. However, we have very limited resources. With only 5 working computers, the employees had to be broken up into groups and will take turns doing the class. For now, it's a basic class in which I let them practice typing to improve and increase their speed. I have also been teaching the basics of Microsoft Word and Microsoft Excel. Amos Sampeur assists with translating during the classes.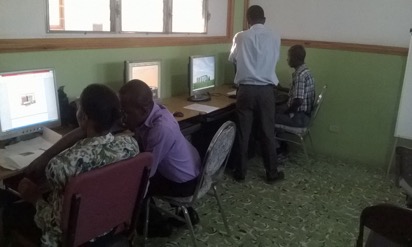 Department of Education and Training
I have recently been asked to Co-ordinate the Department of Education and Training. I am working with a team and we have started training sessions with staff of the varying departments. We are currently working on the schedule for 2016 and we have some interesting programs/projects to implement. 
The following photos illustrate some of the sessions we have had so far.
BLS for the Radiology Department