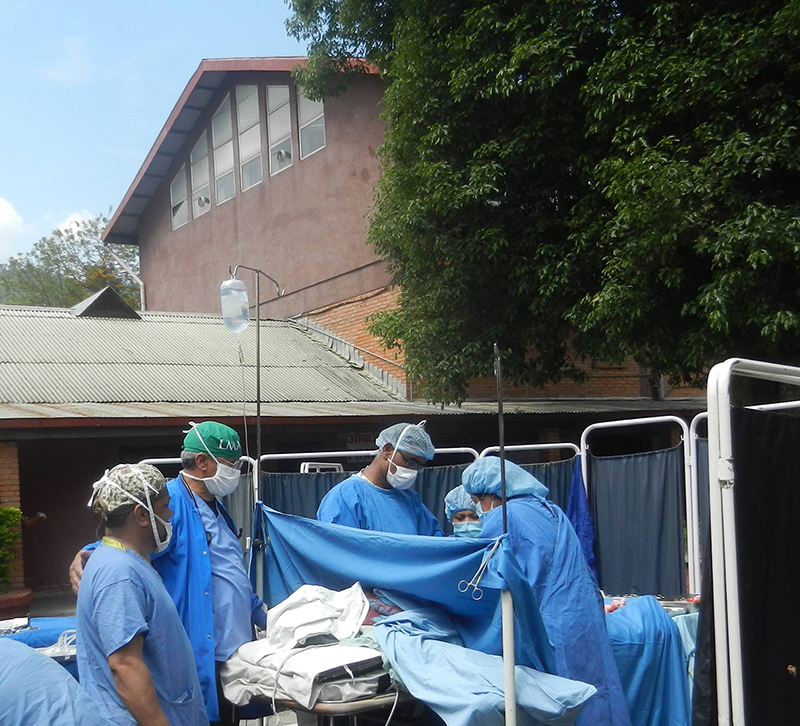 By Courtney Beckwith - April 30, 2015
Photo taken the day of the earthquake: Drs. Vidya Prodhananga, OB-GYN, and Ramon Ruiz Diaz, anesthesiologist, and their team perform a cesarean section outside of Scheer Memorial during the aftershocks of the earthquake.
"Around lunchtime as my friends and I were on the second story of a shop in Pokahara we started to feel the building move. Everyone quickly headed for the stairs while remaining fairly composed. It wasn't until we were all outside and the earthquake continued and seemed to build in strength that those around started yelling and pointing at nearby trees and power lines which they feared might fall on them. Some people were crying and holding onto their loved ones. There were dogs running by whining and whimpering. The shaking and writhing of the ground seemed to last for about 20 to 30 seconds."
This is a direct account by a Loma Linda University student that was published as a CNN iReport after the earthquake in Nepal on April 25. Submitted by Justin Woods, a fourth-year medical student from Loma Linda University, Woods is currently finishing a rotation at the Adventist Health International site Scheer Memorial Hospital. Scheduled to leave Nepal in early May, Woods and his wife, Betsy, a nurse, both experienced the quake firsthand.
In addition to Woods, Charles Graves, another fourth-year medical student from Loma Linda University, was also finishing his rotation at Scheer and was able to fly out of Nepal the day after the earthquake.
Catastrophic situation in Nepal 
At a magnitude of 7.8, the earthquake caused irrevocable damage to the lives of thousands. Structural damage, demolished homes, and injuries will continue to cause death due to infections and other health issues. The aftermath is catastrophic.   
As of April 29, the Nepali government reported 5,006 killed and 10,194 injured by the earthquake; additionally, an estimated 2.8 million are displaced due to destroyed and damaged homes, according to a report by the United Nations.
In addition to these devastating numbers, nearly 90 percent of the health facilities within Ramechapp, Nuwakot, Sindhupalchowk and Gorkha have been severely damaged and are unable to help people.
Situation at Scheer Memorial Hospital
Located in Banepa, Nepal, Scheer Memorial Hospital received minimal structural damage and is still active. During the earthquake, all staff and patients were moved outside into makeshift tent hospitals, and two cesarean sections were performed. A facility with the capacity of 82 beds is now servicing the needs of nearly 200 inpatients. 
"Scheer has become a major treatment center for the earthquake, due to its proximity to many of the mountain villages," says Richard Hart, MD, DrPH, president of Adventist Health International.
Carlyle Welch used to work at Scheer Memorial. He says, "the hospital is reported to sill have water which apparently is in short supply in Kathmandu. There have been many smaller after quakes to the point that people are afraid to sleep inside. The nighttime temperatures are uncomfortably cool this time of year and there has been significant rain."
In a Facebook post, written on April 28, Scheer Memorial Hospital's official site said, "Yes, we were and still are in the earthquake zone. We are still having aftershocks. Yes, we were not hit as hard as some places, but we were hit. We are devastated, but feel strong and glad that we are helping so many of our beloved and precious citizens. We are overwhelmed by the love we have had from around the world. Please keep your prayers coming. Right now that is the best thing you can do for us. Please know that we are strong, although sad, but ready to keep going and we are so thankful to the Lord for His blessings." 
How to help 
Until a sense of what is needed is clearly defined, funds are being solicited through Adventist Health International to support the operation of the hospital and the patients it serves in the Banepa region of Nepal. Adventist Health International and the Global Health Institute are working together and once needs are identified, appropriate medical equipment and supplies will be procured to enable the hospital team to care for the many injured patients. In addition to this, specialty teams are being identified to travel to Nepal when the request comes.
Nepal Earthquake Fund
Adventist Health International (AHI) is committed to utilize philanthropic gifts in the manner donors desire.
Occasionally, conditions in the field may alter program goals or activities.  If this occurs, AHI will redirect funds to similar projects.
Photo taken the day after the earthquake: Doctors, nurses and paramedics rush around the hospital amongst the destruction of the situation.