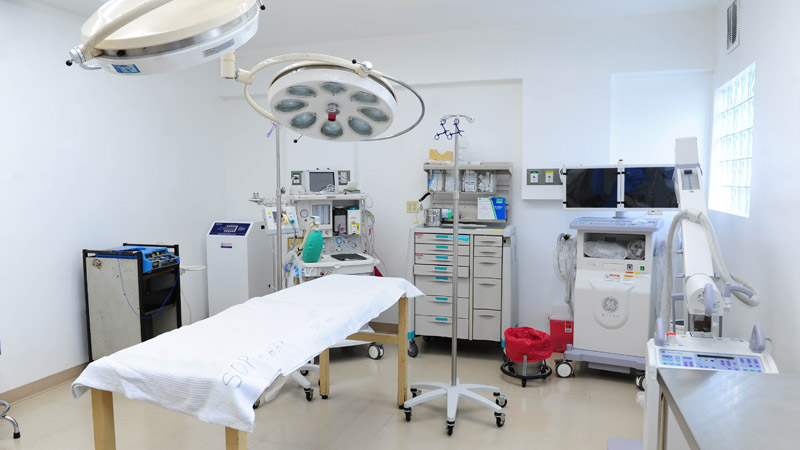 By Courtney Haas - April 5, 2016
Written by: Libna Stevens, assistant communication director for the Inter-American Division of Seventh-day Adventists
Haiti Adventist Hospital (HAH) celebrated its 35th anniversary with the inauguration of a state-of-the-art surgical suite, a new laboratory, a private clinic — and a pledge to keep sharing God's compassion.
The April 1 event at the hospital — known in French as Hopital Adventiste d'Haiti and located near the Caribbean island's capital, Port-au-Prince — drew senior Haitian government officials; leaders from Seventh-day Adventist-operated Loma Linda University Health, Adventist Health International (AHI) and Florida Hospital; and Haiti's first lady, who worked at the hospital 30 years ago.
"The past 35 years of Hopital Adventiste d'Haiti's existence have not been a sprint but a marathon, and I am here to tell you that through it all she is still standing," hospital administrator Edward Martin told the group of more than 100 guests.
The hospital has seen years of glory as well as years of pain, including when a powerful earthquake struck Haiti in 2010, killing 300,000 people, Martin said.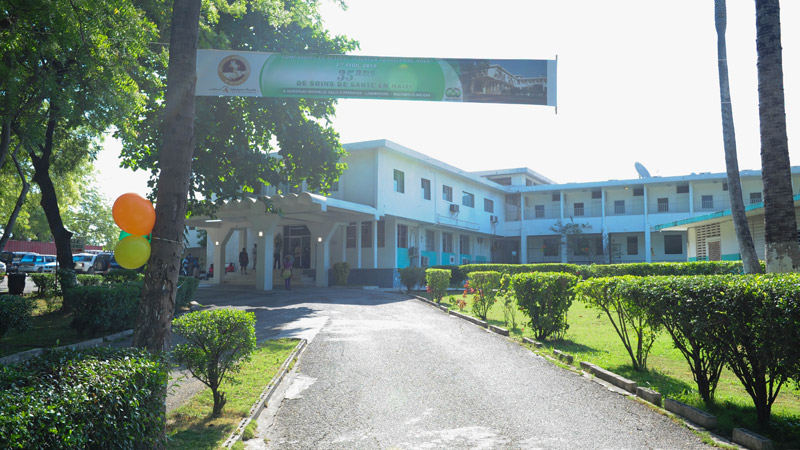 The road leading to Haiti Adventist Hospital
"During the devastating earthquake that struck the country in 2010, [the hospital] stood firm and prepared herself to receive those who were in need of care," he said.
The hospital provided months of care to thousands of people injured in the earthquake. It was able to treat the patients thanks to its association with and support from Loma Linda, California-based Loma Linda University Health; Florida Hospital in Orlando, Florida; and Adventist Health International, a nonprofit corporation that provides governance, consultation and technical assistance to a number of affiliated Adventist hospitals around the world, hospital officials said. Loma Linda University Health and Florida Hospital have contributed funds and medical professionals to the hospital for years.
Incidentally, the hospital was constructed under California seismic building codes, which contributed to its withstanding the 2010 earthquake, said Elie Honore, a former administrator of the hospital who played a key role in its establishment in 1979. Honore currently is the president of Adventist Health Services Inter-America, which oversees the 14 hospitals and 24 clinics in the Adventist Church's Inter-American Division.
The new facilities
The new surgical suite at the 65-bed Haiti Adventist Hospital includes three fully equipped operating rooms with an inline central medical air, medical oxygen system and a new modern laboratory.
The new private clinic will be managed by a local insurer, Compagnie d'Assurance d'Haiti, in a rented, remodeled office on the premises of the hospital. The multi-specialty clinic will provide medical services onsite and refer its patients to the hospital for extended services such as lab work, radiology, surgery, hospitalization, and emergency care.
The hospital's staff of more than 40 physicians, nurses and other personnel has treated an average of 12,000 patients a year for the past two years.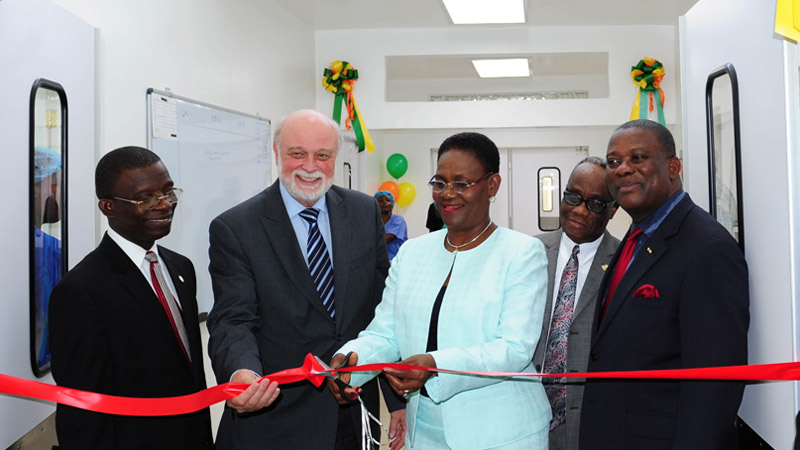 Haiti's first lady cutting the ribbon at the new surgical suite as Hart, second left, and others watch.
At the ceremony, a senior Haitian senator, Carl Murav Cantave, who is an Adventist believer and medical doctor, congratulated the Adventist Church and the hospital for providing quality health care to people from all parts of society. He challenged hospital leaders to find ways to expand health care services.
"Many times people travel to the United States or the Dominican Republic for better care, and HAH can be that hospital," he said.
Richard Hart, MD, DrPH, president of Loma Linda University Health and Adventist Health International, promised that the two organizations would maintain their support of the hospital.
"Our commitment to keep this hospital the best hospital in Haiti continues," he said.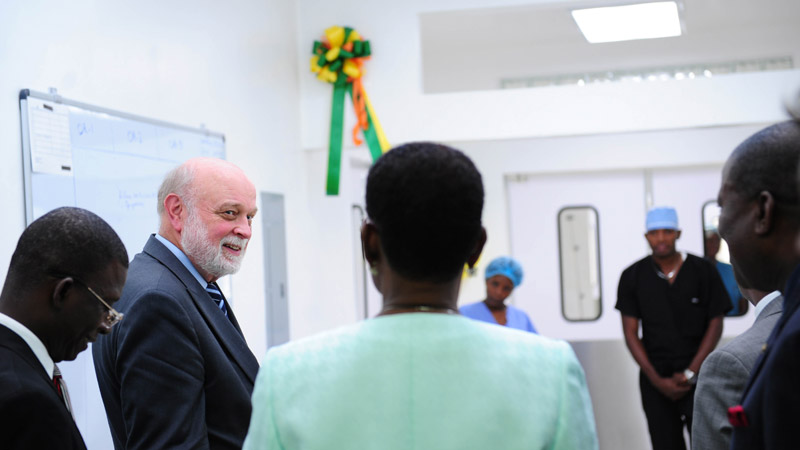 Richard Hart, MD, DrPH, president of Loma Linda University Health and Adventist Health International tours the new surgical suite along side Haiti's first lady and other honored guests.
Pledge to Share God's Love
Haiti's first lady, Ginette Michaud Privert, spoke about her time working at the hospital in 1985 and 1986, and extended congratulations on behalf of the country's president.
"I know that it has not been easy during the more than 30 years here, but thank you for providing quality services for so many in Carrefour and at the national level," she said. Carrefour is the suburb of Port-au-Prince where the hospital is located.
Martin, the hospital administrator, mentioned that the hospital has five major projects that it needs to tackle: renovations to the emergency room, two communal rooms, the main floor, administration offices, and an outpatient services area. But he said Friday's ceremony was not a time to discuss how much remained to be done but to celebrate "the small steps that the hospital has taken in order to be a better health care provider for people."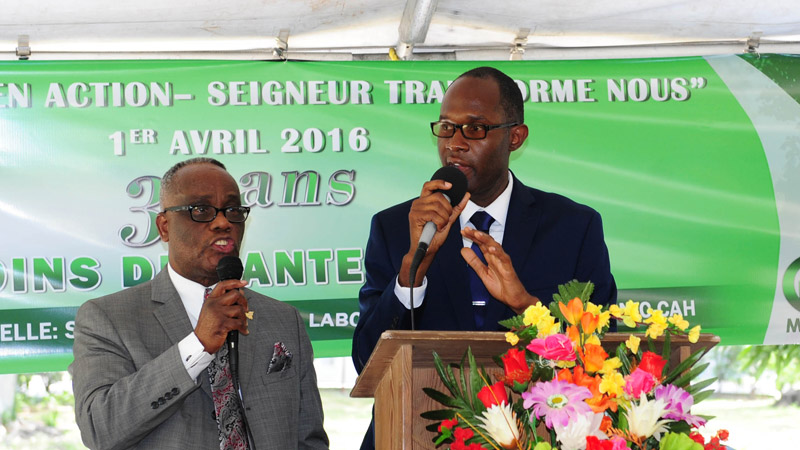 Elie Honore, a former administrator of the hospital who played a key role in its establishment in 1979 and current administrator, Edward Martin share in the celebration by discussing all that the hospital has overcome.
"The hospital for many here symbolizes more than just a beautiful structure, more than a place to receive medication or another lab result. It represents hope and life," Martin said.
"We want to be an institution that reflects God's love and His compassion to all — patients, partners and visitors," he said.