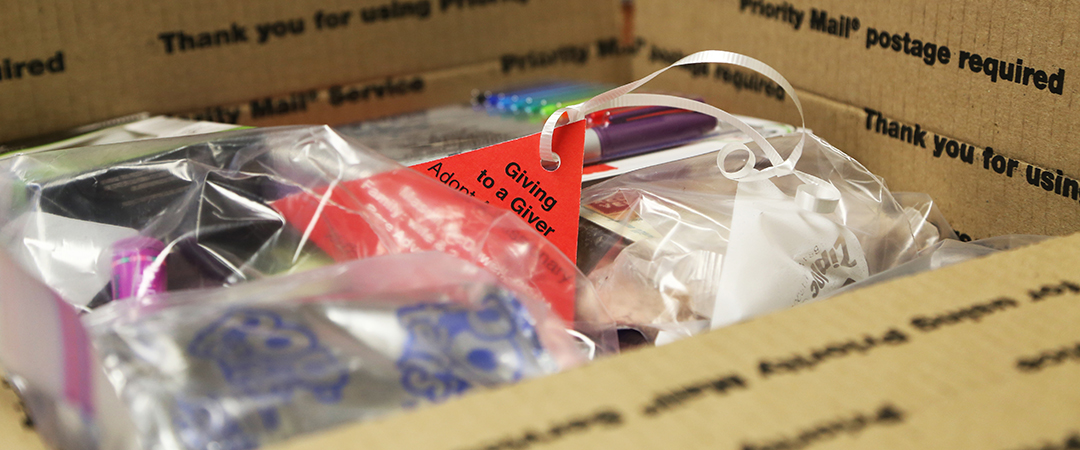 By Courtney Beckwith - December 22, 2014
This year, the second annual Adopt-a-Missionary Christmas project is connecting 15 missionary families with various groups and individuals in the Loma Linda community. Christmas cheer is being spread throughout the world in the form of large flat-rate postal boxes. 
Loma Linda University Global Health Institute (GHI), in collaboration with Students for International Mission Service (SIMS), organized the project for the first time in 2013. The project received so much support that they decided to continue it this year.
The missionaries include Loma Linda University alumni, global service awardees (GSAs), deferred mission appointees (DMAs), and Adventist Health International (AHI) long-term volunteers who are working overseas at Loma Linda University Health strategic interest sites as dentists, hospital administrators, nurses, public health educators, and more.
Rainey Davis, OT student, class of 2016, decided to sponsor one of the missionary families with the help of her own family back home in Washington state. After serving as a student missionary, Davis reflected on the fact that it meant a lot to her knowing that that people still cared about her even though she was far away.
"I just remember it was so nice to get something that reminded me of home," Davis says. "Even if I couldn't use the gifts myself, I knew that I could give them to someone else in my village, and they would appreciate it."
Angeli Yutuc, program manager of international service at GHI, coordinated the project and mentioned that this year, even more than last, the collaboration across campus has been inspiring. In addition to individual sponsors, Loma Linda University Health departments and groups of students chose to adopt many of the mission families. When the boxes were filled, these sponsors were still asking how they could continue to give more.
Jackie Aitchison, an employee in risk management, sponsored four boxes with her department and said the only complaint was that the boxes were too small.
"Several of us came into work and realized we had completely filled the boxes with presents for the children before we were even done shopping for the entire families," Aitchison remarks. "So we are actually sending an additional box to one of our sites."
"It's nice to see the campus come together and support our international projects and volunteers," Yutuc shares. "It gives them a little glimpse of the people serving abroad that our office is connected with on a daily basis, and it certainly helps our volunteers to feel valued and remembered during the holiday season when they are not necessarily able to be with family or go home for the holidays."